Bonjour!
I am happy to introduce our first Academic Newsletter of the school year! So much is happening in the classes that we don't want you to miss out. Each time, the Newsletter will showcase several class projects amongst many.
6e et 4e-5e / 6th & 7-8th grades (Jean-Christophe's French class)
Our two classes of middle schoolers started the year by studying and doing their self-portrait; then they analyzed portrait of comic-strips heroes, including physical and moral aspects, and added a description of a cultural or natural landscape. They are also observing the narrative rhythm in stories, and doing technical analysis of comics and their movie extracts, while learning and using specific vocabulary. These expansive skills apply to all the literature they are reading.
CM2 / 5th grade (Frédéric M.'s class)
Since September 22nd, the CM2 started a remote game of chess (les échecs) against students at the Jacques Prévert French school in London. After meeting their pen pals, the CM2 are sharing their move by email. Every time, students suggest moves, justify and debate them before validating the next one through a class vote. You can follow their game here.
GS/ Kindergarten (Anne-Sophie's class)
Once a week, as part of sport and relaxation, Kindergarteners (les grandes-sections) are doing yoga in class during their quiet time. It helps focus on breathing and relaxing. They also have a yoga corner with posters and a mat available for additional practice. Which one do you think is the turtle position – position tortue? They also learn and practice soft massages with each other. We want massages too!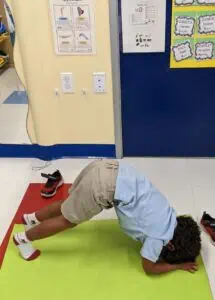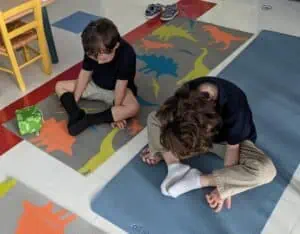 MS /Junior K (Isabelle & Lily's class)
The class has been celebrating Fall (l'automne) in all its colors. As part of fine motor skills and pre-writing / graphisme, our 4y-o have been observing, practicing and naming vertical lines (les lignes verticales). As an extension to art, they used different tools such as bubble wrap and brushes to paint a colorful forest (une forêt).
Elementary school life: Les interclasses / Intramurals – sport tournament
During lunch recess, our P.E. teacher, Hervé, is resuming the Intramural sport tournaments. Once a week, classes are playing against each other in various sports. Each term, a winning class receives a trophy and a special game is held: middle school versus staff! If the middle-schoolers win, all classes Kindergarten & up get a surprise!
Social Emotional Learning (SEL) & Mindfulness
As one of our school project axes, we are developing a SEL curriculum over the entire school to guide and provide tools to our students. In every newsletter you will discover new practices you can use at home too.
With Céline L., the CE2 have been practicing various breathing techniques, using little mindfulness cards and a breathing ball. They now know how to do the Take 5 breath, the bunny breath, the snake breath, the square breath… and many more!
With these tools, they learn to be more mindful, calm and focused in class, and also manage their emotions better.
If you are curious to know more, don't hesitate to chat with your children and their teachers.
Violette Dunn
Academic Director