After School Program 2021-2022
"LFSD is proud to provide to our students a rich and diverse After school program. Come to find your activity through our multiple choice STEAM, Sports, Art, Singing, Cooking, Theater, Yoga, Dance program and more …and have fun with us"
Schedule & Registration
                                                               

April 25th-June 10th, 2022
(No class during breaks, holidays and on Monday May 30th)
(For more information regarding the vendor programs please contact them directly)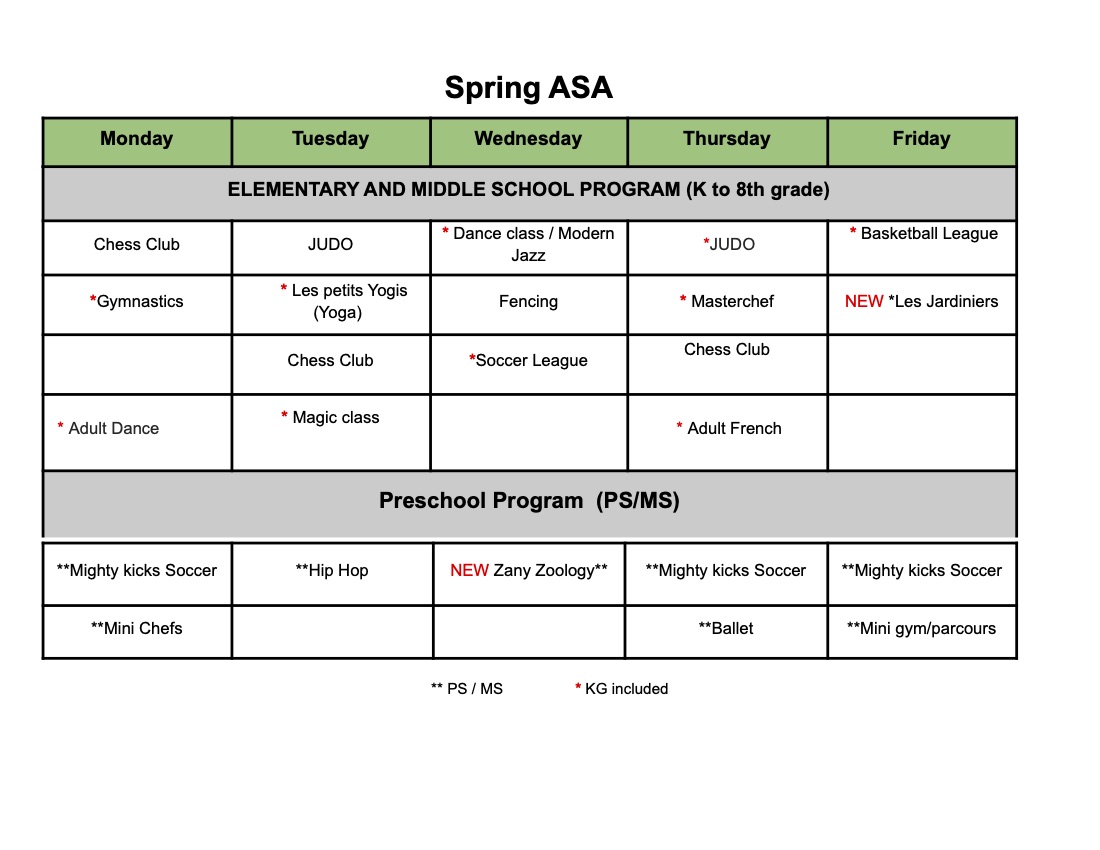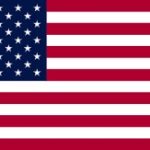 English program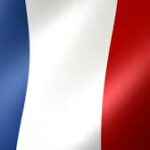 French program
---
 Elementary, Middle School and Adult Program
3:45-4:45pm
( Please click on the picture program or the presentation Text to get the Registration Form)
Proposed by Rising Stars Development League
(KG & up) 
Rising Stars Development League basketball program for boys and girls. Our program combines footwork, speed, agility ball handling, grills and games to maximize your true potential.
(KG & up) 
Learning of basic on the floor figures of gymnastic. Creating small sequences on the floor gymnastic with choreographic staging. Develop child psychomotor capacities (flexibility, balance, precision…) and personal trust by learning how to adapt to unusual posture and overcoming fears (fear of heights, fear of falls). Possibility to develop further the activity with a second course for more experienced.
(KG up to 5th grade) 
After this class, your child will be able to make you some delicious dishes and desserts !!! We will use eggs, flour, milk… so if your child has food allergies, this will not be possible, sorry. Everything will be furnished for this class (ingredients and utensils).                       Tous à vos fouets pour cuisiner !
Proposed by Rising Stars Development League
(KG & up) 
Rising Stars Development League program for boys and girls. Our program combines footwork and mastery soccer fundamentals help players become better at soccer.
(1st grade & up) 
"The player has to cultivate many qualities such as patience, memorization, logic, concentration and serenity "
"There are more adventures on a chessboard than on all the seas of the world"
"The game of chess helps to develop logical and coherent thought, promotes the ability to project into the future, to see in space, to develop a strategy, to devise a tactic". And what's more, it's fun!
Proposed by Forte Fencing
(1st grade &up) 
Forte Fencing's after-school program introduces Olympic-style fencing to students. Participants learn basic footwork and sword moves, competitive techniques, along with the strategy and analytical skills that all great fencers need. Classes are game-oriented and entertaining as an element of fun helps student learn new skills faster. This program will help children develop hand-eye coordination, speed, endurance and mental agility. Students will also learn the history of the sport and will participate in a tournament on the last day of the program.
(KG up to 5th grade) 
A class for children to move, relax and breathe after their school day. They will learn yoga poses and mindfulness practices, through various fun games, flows and activities on their mats. (Teacher certified for Yoga, Kids Yoga and Mindfulness).
 JUDO Martial Art (Vendor program)
Proposed by AKA JUDO
(Tuesday: 2nd grade & up), (Thursday:KG & up) 
More important than just building a better athlete, sports should build a better person. Come discover the Judo and these values: Courage, Modesty, Respect, Sincerity, Friendship, Honor, Politeness and Self control. From a standing position, it involves Judo techniques that allow you to lift and throw your opponents onto their backs. On the ground, it includes techniques that allow you to pin your opponent's down to the ground, control them,  
(KG up to 4th grade) 
Though a range of exercises and fun routines, children will be able to express themselves as well as work on their gross and fine motor skills (balance, coordination and flexibility). This dance class is a good way to challenge them, develop their awareness of space and time and help them socialize with other kids.
(KG & up)
Learn how to perform magic tricks using cards, boxes, rings, balls…
Every week, children will learn new tricks and discover the world of magic.

(KG & up)
Learn how to grow plants and vegetables and take them home. Decorate planters & macramés. Make fun outdoor decorations.
---
PRESCHOOL PROGRAM
Proposed by Dance to EvOLvE Inc
(PS/MS) 
This fun, high-energy dance class enables boys to be boys and girls to let loose while developing creativity, coordination, musicality, and listening skills. Activities include hip hop, basic break dancing, and dance games in a non-stop action-packed class that will have you moving' to the beats! All music and moves are age appropriate.
Please note there is NO dress code, just wear clothes you can move in and tennis shoes.
Proposed by Dance to EvOLvE Inc
(PS/MS)   
Keep your Star Shiner moving in this ballet class! This progressive class introduces curriculum goals through fun movement allowing your dancer to be challenged while expressing themselves. Dancers develop dance, listening, and coordination skills, including an emphasis on ballet terminology and technique. Parent demo day and participating in annual recital welcomed!
Please note there is NO dress code, please do not send dance wear for child to change into. Wear leggings to school that day and send ballet shoes.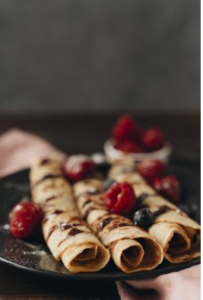 (PS/MS) 
Cooking class is an activity for students who would like to cook some meals or mainly dessert of different countries in the world ( tiramisu galettes waffles, brownies…) It is also a great experience to learn how to learn new words in French, to behave whiting a group, to wait our turn, to share tools and to improve our fine motricity skills.
Proposed by The Mighty Kicks Soccer
Welcome to Mighty Kicks- the premier introductory soccer program for children! Mighty Kicks is more than a soccer program. Our creative curriculum, coaches and high energy classes provide your child with experiences that apply both on and off the soccer field. Our curriculum was designed to enhance your child's growth and development in confidence, coordination, character, social skills, and basic soccer techniques. The result is an impactful soccer program for kids that will create memories and skills that last a lifetime. We can't wait for you to join us!
This after school will allow children to develop agility, flexibility, balance, coordination and strength! Focus is on developing motor skills and having FUN ! 
Students will study polar bears, chameleons, poison dart frogs, monotremes and more…   
Come have fun while learning and exploring! 
Adult French Class  (Beginner level)
From 03/03-06/09   on Thursday 3:45-4:45pm (13 classes)
(Must be Fully vaccinated)
"Teaching a language to children and adults needs to be fun and engaging with actions and repetitions. The French lessons will be about interactive games, songs, role play, stories, describing short videos and pictures of everyday life and art pieces"-Anne-Sophie.
This  program will focus on the:
Conversations

 Expressing your opinions and emotion,

 Sharing your favorite dishes, movies, paintings or sports

 Learning daily basic 

French

 sentences (shopping in a market, or in a bakery…)
Zumba Influence
From 02/28-06/06   on Monday 3:45-4:45pm (13 classes)
(Must be Fully vaccinated)
This dance class is designed to offer some entertaining routines and work on coordination, body alignment, cardio… while socializing with others.
Come and dance with our professional teacher at LFSD